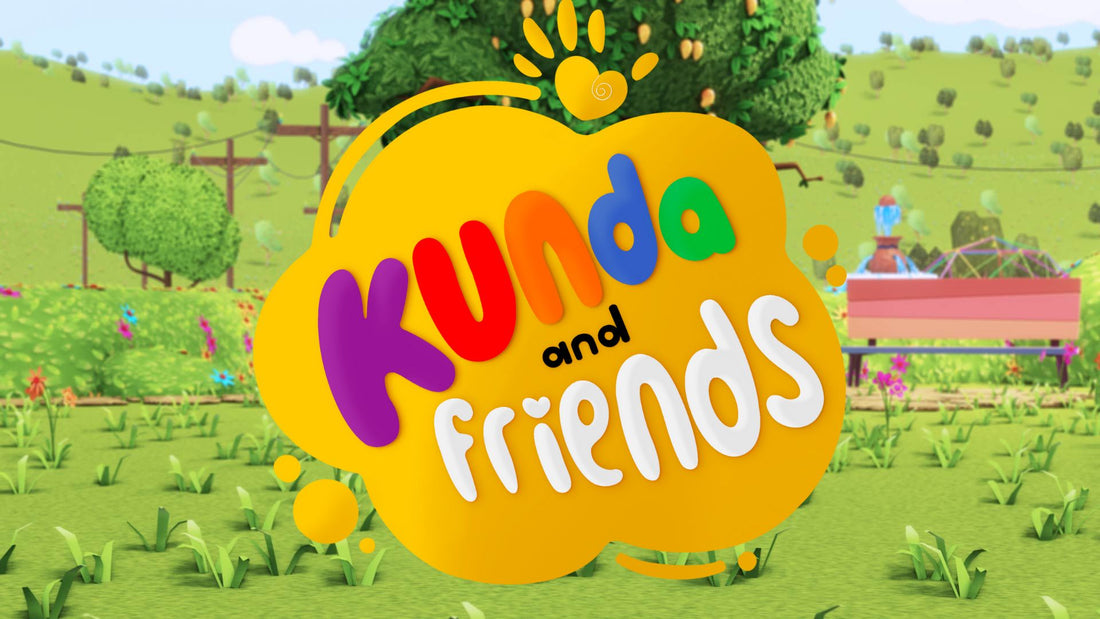 Press Release: Kunda Kids Release Animated Series Kunda & Friends
New African Music-Led Children's Animation Kunda & Friends Brings Diversity and Innovation to YouTube's Preschool Programming
London, United Kingdom - May 1, 2023: Award-winning children's publishing and media company, Kunda Kids, is proud to announce the launch of their newest creation, Kunda & Friends, a music-led children's animation now on YouTube. 
Set in a beautiful African landscape, each episode explores different aspects of friendship and how it can be nurtured and strengthened in fun and exciting ways. The music for each episode takes inspiration from African culture, with influences from genres including Afrobeats, Reggae and Amapiano.
Kunda & Friends: A Refreshing Change in Children's Animation 
Kunda & Friends is set in Africa and developed by teachers and educators with an emphasis on S.T.E.A.M. learning. The show offers preschool content anchored on numeracy, phonics, and soft skills such as friendship, confidence, and kindness, but with an eclectic cast, and diverse themes and musical references.
The Kunda & Friends soundtrack takes inspiration from present day African culture, with influences from music styles like Afrobeats and Amapiano - made popular by Grammy Award-winning artists such as Burna Boy and WizKid.
The Need for Greater Diversity in Children's Animation
The need for greater diversity and better representation of Africa in children's animation cannot be overstated. Kunda & Friends is an excellent representation of Africa to children, with vibrant characters with unique personalities and quirks. According to a study by the Geena Davis Institute on Gender in Media, only 10% of characters in children's media are from underrepresented racial and ethnic groups, and only 2.9% of speaking characters are Black. Exposure to diverse representations of different cultures can promote empathy, understanding, and acceptance of others.
At the helm of Kunda & Friends is director Raymond Malinga, a former Disney producer, and producer Chiderah Monde, previously of Twitter (Africa).
Raymond says: "Kunda & Friends is an opportunity to impact not only the younger generation of kids from all over the world but to impact the lives of artists longing to work on larger scale productions."
Chiderah says: "Imagine a future led by children whose understanding of the world is shaped by kindness, empathy, confidence and community. This is the world that Kunda, Sana, Fela and the whole gang live in, and it's one that we want to bring to life – not just on screen. We invite everyone to engage in the vibrancy and richness of African culture and storytelling through Kunda & Friends."
About Kunda Kids
Kunda & Friends was created by Kunda Kids, an award-winning children's publishing, Ed-tech and media company based in London, UK. Founded in 2020 by Oladele and Louisa Olafuyi, Kunda Kids aims to showcase various elements of African culture in creative, fun, and simple formats for children. 
Kunda Kids promotes diversity and inclusion in children's literature and media. With a focus on African culture and essential soft skills such as self-confidence, teamwork, and kindness, our engaging and inspiring stories are positively impacting children's development.
Additional information
Live Launch: May 29, 2023 in London, UK
Contact: Louisa Olafuyi  louisa@kundakids.com 
Kunda & Friends YouTube Channel: Click here to view
Kunda & Friends Instagram: @kundaandfriends